We commit to providing safe and supportive environments which nurture the wellbeing of all students and staff in our community, and hold firmly to the belief that they have a right to be safe, respected and valued in an inclusive environment. We know that when students are happy, they are more engaged with their learning.
Schools benefit from wellbeing initiatives and pastoral care support through Sydney Catholic Schools – in areas such as anti-bullying, positive behaviour, student counselling, refugee support and child protection – which range from universal support for all students, to targeted interventions for students with complex social and emotional needs.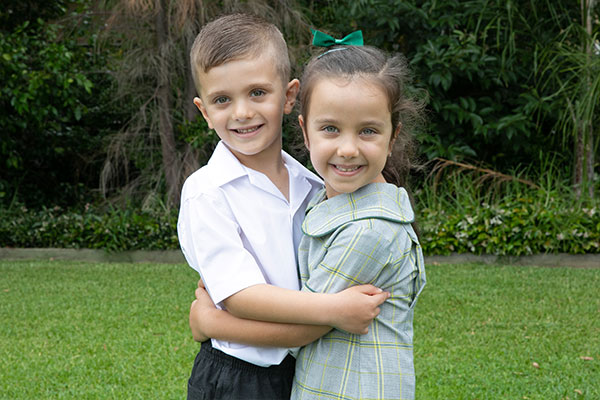 St Peter Chanel Catholic Primary School Regents Park supports students in all aspects of their spiritual, physical, emotional and mental wellbeing through a variety of school programs.
Recognition of Student Achievement
Students are commended on their work and efforts both in-school and out-of-school through our Soaring Awards. Based on the School-wide Positive Behaviour for Learning framework, students are rewarded for being safe, respectful and responsible.
Breakfast Club
Research has often espoused the benefits of children starting school after eating a healthy breakfast. The Breakfast Club provides a nutritional breakfast to any student, giving all students the chance to be academically successful.
Brain Breaks
We know through research that children need to move and take brain breaks to improve their concentration and brain activity. Brain breaks improve attentiveness, reduce student stress, improve memory and foster relationships between teachers and students. It is for this reason that the students at our school enjoy a 10 minute break outside of the classroom every hour.
Sydney Catholic Schools rejects all forms of bullying behaviours, including online (or cyber) bullying, by maintaining a commitment to providing safe, inclusive and respectful learning communities that promote student wellbeing. Staff at Sydney Catholic Schools are committed to employing wellbeing strategies that allow for a healthy school environment where bullying is less likely to occur.
If your child is experiencing bullying of any kind, or you have a wellbeing concern, we have a number of support services available for parents/carers and students, as listed below.
Support services: